Sondra Whalen, APR
Director of Student Programs and Communications, Vernon Verona Sherill Central School District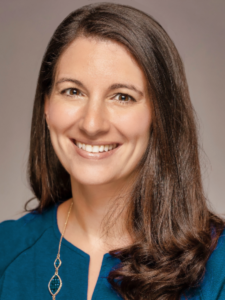 Sondra Whalen, APR, is the Director of Student Programs and Communications at Vernon Verona Sherrill Central School District in New York, where she establishes communications strategy and cultivates enhanced student learning opportunities. She is passionate about advancing the profession of public relations and has presented at the state and national level with a focus on empowering colleagues. She believes that setting a firm foundation for the science and data of communication empowers practitioners and demystifies the work of PR professionals, giving all stakeholders a starting point for strategic partnership. In her day-to-day work, Sondra focuses on storytelling and creating meaningful relationships within the school community and has received multiple Awards of Honor from the NY School Public Relations Association for her efforts.
The Power of Analytics: Elevating Your Value and Your Profession: The value of your public relations work should never be left to opinion and perception. Harness the power of analytics to emphasize the benefits of your counsel, showcase the impact of your strategic planning, and solidify (or establish!) your seat at the c-suite table.
---
Michelle Toch Dinsmore
Principal, Overit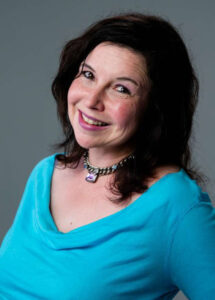 Michelle Toch Dinsmore is an idea-obsessed creative. She is an entrepreneur and a magnet to all things out of the box. She is a proud, card-carrying tech geek. Michelle is not a fan of bios, or titles, or name-dropping… Instead, she chooses to focus on improving businesses and their communities.
Michelle has been channeling her obsession with creativity, bleeding-edge technologies, and experiences long before the web was a "thing." She loves working from concept to actualization – all collaborated, executed, and conducted by the punk rock orchestra that is Overit.
Michelle came on board to help build Overit and has been a conductor for many clients, projects, products, events, and initiatives through the years. Weaving business goals with creative out-of-the-box solutions, implementing solid marketing that checks the boxes of both unusual and useful – THAT is truly Michelle's magic sauce.
Besides her work with the agency, working within the arts and creative community has always been a constant part of her life. She is heavily involved in many community-based initiatives and events, as well as adding to her portfolio locally of Airbnb's, former churches, and helping other real estate unicorns out there.
If you are looking for her credentials, she has them. "Over and out."
---
Panel participants
Jessica Otitigbe
Visiting Assistant Professor of Communications
The College of Saint Rose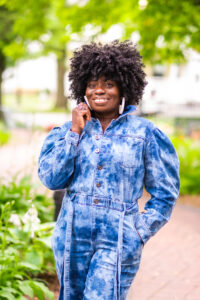 Mother. Writer. Business Storytelling Strategist. Visiting Assistant Professor. STEAM Enthusiast. Urban Gardener.
President & Founder, Creative Collaborations Consulting, LLC
In an ever-changing world, there is no singular template to follow when tackling methods related to how we successfully tell our personal, professional, and organizational stories; although history, experiences, research, and more may often provide a guide. Jessica Otitigbe is working to change that, one story at a time. She is a uniquely talented and versatile communications leader,t with over 25 years of experience in the areas of higher education, community relations, corporate communications, public relations, media project management, and media event planning. Besides communications, Jessica is also passionate about developing meaningful collaborations with individuals and other organizations to create a series of sustainable community engagement programs and events that have connections to education, STEAM, entrepreneurship, financial literacy, and BIPOC women's health/wellness, and self-care.
Jessica received her Bachelor's degree in English from the University at Albany, State University of New York; and a Master of Science degree in Broadcast Journalism from Columbia University Graduate School of Journalism.
Today, noting that the education profession is in constant flux in response to issues and trends, Jessica has been teaching a series of courses in advertising, marketing, public relations, and strategic communication at the College of Saint Rose, which present opportunities to demonstrate commitment to student achievement, equity access, and the education profession. Projects involve group and independent work, to plan, implement, and evaluate media campaigns that meet specific client needs. By responding to community needs, students foster a sense of civic engagement and view the "classroom" as extending beyond the Saint Rose campus. Most importantly, she believes teaching requires empathy and endurance in presenting and enforcing clear and consistent expectations to maintain the safety, dignity, and creativity of the learning community. These are her beliefs as an educator of 21st century diverse learners.
Jessica also serves as a board member for the following organizations: the Public Relations Society of America, the Capital Region Chapter, Tech Valley Center of Gravity, The Red Book Shelf, and the Woman's Club of Albany.
When she isn't writing, teaching, consulting, creating strategies, or telling stories, Jessica loves nurturing her most important accomplishment—being a present parent to her daughter, who is the first Black valedictorian for Albany High School, in the school's 152-year history. Now at Harvard in her junior year, her daughter hopes to specialize in pediatric robotic-assisted neurosurgery and become a "surgineer," working in a new field that combines interdisciplinary aspects of robotic design and surgery.
---
Howard Litwak
VP of Sales Enablement, SIX Marketing
Howard Litwak is the VP of Sales Enablement at SIX Marketing, a growth firm in Saratoga Springs. Prior to joining SIX, he successfully ran his own consulting/coaching practice for over 10 years with a client base spanning 30 different industries. He believes that much of his success is driven by his own commitment to ongoing professional development. He uses that to supplement his background as a manager, trainer, and professional seller in Corporate America for more than 20 years.
Howard appreciates that successful individuals never stop learning, and learning organizations constantly do what it takes to avoid mediocrity. He practices what he preaches and has invested in his own development in order to increase his effectiveness as a professional. Most recently that has included study and application of prompt engineering in order to better serve his team and his clients.
---
Ian MacDonald
Professor and Dean of the School of Mathematics and Sciences, The College of Saint Rose
Dr. Ian MacDonald, a Professor Computer Science and Cybersecurity, and Dean of the School of Mathematics and Science at The College in Saint Rose in Albany, has been studying AI for more than two decades. In addition to classes on AI, Dr. MacDonald teaches on cybersecurity, data communications and networking, bioinformatics, and discrete mathematics, among other topics.
Dr. MacDonald holds a Ph.D. in Computer Science from the University at Albany, with research interests in artificial intelligence, bioinformatics, and cybersecurity. He is a member of the FBI Infragard New York, affiliated with the Cyber Workforce Alliance (CWA), and a founding board member and researcher for the Center for Sympathetic Intelligence. Outside of the professional world, Dr. MacDonald enjoys being an active musician and producer, and he owns a recording studio in Rotterdam, New York.
Learn more about Ian MacDonald.
---
Alana Sparrow
Co-Founder & CCO, The Foundry for Art Design + Culture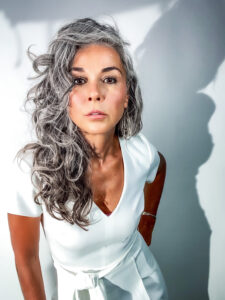 Alana Sparrow, Co-Founder & CCO of The Foundry for Art Design + Culture, boasts 35+ years in branding, visual storytelling, and activism. Her award-winning work, spanning from startups to Fortune 500s, and global NGO partnerships, is a catalyst for change. A storyteller at heart, Alana champions authenticity and inclusivity, elevating marginalized voices. More than a creative, she's a transformative influencer in the industry.
---
Jeremy Evans
Art Director, Overit
Jeremy is known to spend hours, even days, at a time dedicating himself to one of his many passions – family, art, design, music, and philosophy. When he gets lost in the groove of studying a color scheme or the intricacies of fine hand-lettering, it's almost impossible to pull him out of that meditative state.
In all of Jeremy's work, he strives for greatness. His career initially began as recreation in 2008 when he decided to study design in his spare time. This led to co-founding a start-up in the summer of 2011, and he considered himself one of the lucky few whose passion became his career.
His obsession with art led him to Overit, where he now crafts thoughtful interfaces and beautiful user experiences to solve a variety of visual problems that clients face. You may also find him working on logos, brand assets, and graphics for print, videos, digital and so much more. He appreciates Overit's collaborative environment which inspires him to see things from all different perspectives.