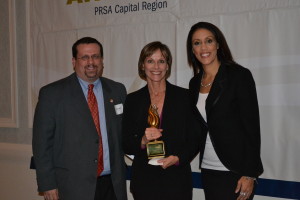 More than 80 area communicators gathered at the Hilton in downtown Albany last night as the Public Relations Society of America (PRSA) Capital Region Chapter hosted its sixth annual Empire Awards, recognizing the best and brightest public relations practitioners, projects, and campaigns of 2013. The event was emceed by JoDee Kenney of YNN Capital Region.
Carolyn Jones, Publisher of The Albany Business Review, was recognized with the Outstanding Communicator Award, given to a Capital Region professional who has demonstrated excellence in the field of communications. (Read PRSA's interview with Carolyn Jones.)
The chapter honored Edward Parham, director of public relations at Rueckert Advertising & Public Relations, with the Outstanding Practitioner Award. The recognition is bestowed upon a Capital Region public relations professional who has achieved exceptional success, displayed the highest ethics and is dedicated to serving the community and profession. (Read PRSA's interview with Edward Parham.)
In addition, individual Empire Awards were presented to the Credit Union Association of New York, Excelsior College, Overit and Pierce Communications.
The Credit Union Association won two awards, one for its e-newsletter, The Point, and another for its corporate brochure. Excelsior College was recognized for the success of its online newsroom and magazine, Excelsior Life. Overit walked away with three awards for its work on behalf of Catseye Pest Control, imo messenger and the New York Council on Problem Gambling and its KnowTheOdds Initiative. Pierce Communications won for Found Sound: miSci's 1878 Edison tinfoil makes headlines (again), a campaign on behalf of miSci, the Museum of Science and Innovation.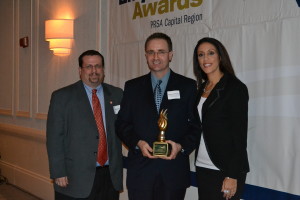 A peer PRSA chapter, TriCities Chapter (Tennessee/Virginia), conducted judging for the awards under a reciprocal agreement with the Capital Region chapter. Submissions were accepted in eleven separate categories, including media relations, integrated media, online media, and public affairs, among others. To receive an Empire Award, a nomination must score a minimum number of points to be considered a finalist, and must reach an even higher minimum to be presented with an award.
The Empire Awards competition, launched in 2008, is open to both PRSA members and nonmembers.
Stay tuned to the PRSA Capital Region Facebook page for more photos from last night's event!