By Mike Lesczinski
Public Relations Manager, Excelsior College
Communications Chair, PRSA Capital Region Chapter
www.MikeLesczinski.com
There are good days in PR and there are bad days in PR. There also days so unexpected and out of the ordinary, that you just have to throw your hands up, sit back and chuckle.
Yesterday was one of those days.
Over the past three weeks, Excelsior College's communications team, including yours truly, had collaborated with Sage College on a joint press conference to announce the first ever bachelor's degree for individuals on the autistic spectrum. Unique story angle 1.  
While Sage spearheaded many of the logistics around the press conference itself, we here at Excelsior spent a good amount of time with message development and corralling print media. This was, after all, an opportunity for our President to announce the reason for the collaboration itself – a new, one-of-a-kind division which will focus on building online programs for brick-and-mortar institutions under a profit-sharing agreement. Unique story angle 2.
Albany Mayor Jerry Jennings and State Senator Roy McDonald, both strong advocates for education and the underserved, jumped at the opportunity to attend and speak some very heartfelt words on the need to reach out to those communities often left behind. Unique story angle 3.
Combine each of those three unique story angles, and it's no surprise, that the who's who of local print and broadcast media showed up. The conference went off without a hitch.
All seemed right in PR land as I lay back in my chair to open up a can of peanuts early yesterday afternoon.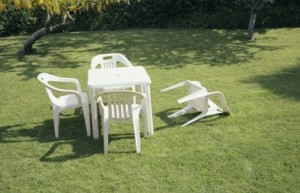 And then I started shaking, only coming to the realization that I wasn't suffering from some acute medical condition when a co-worker blurted out, Is this an earthquake?
Yep, just like that, my office was in a tizzy, convening at the water cooler to swap stories or calling loved ones down south.
Me? I just shook my head. I knew, after all that work, we were getting bumped by an earthquake. In Albany, N.Y.
And I was right.
Of course, everyone has their strange, unbelievable story about that one time when PR perfection came crashing down unexpectedly due to events far beyond your control. You know, the remember when moment you can only share with a fellow PR person over a beer – because they are the only ones who would truly understand.
So, here's your time to share. What you got? Tell us your story about being bumped for a natural disaster, buried by a dancing koala bear, or when your client press tour stop was usurped by a sleazy governor getting caught with more than a few high-priced prostitutes. What did you do? How did you react?
The floor is open to you.
*Update: It seems the floor is closed to you. We are experiencing a problem with our comment section and are looking to remedy the situation.
**Update 2: Comments are good to go!