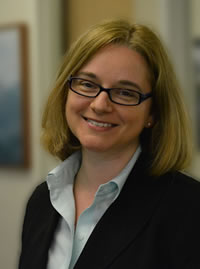 Kristin Legere, Media Relations Manager for The Business Council of New York State, was recently selected as the winner of PRSA Capital Region's 2014 Accreditation in Public Relations (APR) Scholarship. The scholarship will cover the costs for Kristin to take the APR exam and potentially receive the APR certification. Read on to find out what makes Kristin such a great APR candidate! To learn more about the prestigious APR certification, visit www.praccreditation.org.
PRSA Capital Region: Tell us a little about your background.
Kristin: I have been lucky to have had a career that has grown and evolved as I have, and one that has allowed me to utilize my skills in a range of sectors including government, private industry and non-profits.
I currently manage communications and brand outreach efforts for the Business Council through media, publications, and social media platforms. Our membership base encompasses businesses — from Fortune 500 companies to small business — Chambers of Commerce, non-profits, and educational institutions, among others.
My career in public relations began as a White House intern and then as assistant the Commercial Attaché at the U.S. Embassy in Santiago, Chile. These experiences were a great launching pad, allowing me to learn from some of the best early on.
This fall I will be pursuing a master's degree in communications. I have a master's degree in urban planning from the State University of New York at Albany as well as bachelor's degrees in political science and Spanish from the State University of New York, College at Oswego.
PRSA: What does a typical day at work look like for you?
Kristin: In an organization with such a diverse membership base, no two days are alike!  The Business Council is involved in major issues that drive New York's economy with the focus being on improving the economic outlook and growing jobs.  This can include working on legislative issues that would provide mandate and tax relief to New York's businesses, promoting educational opportunities for members through our events, or working on other issues like workforce development, energy, health, technology and infrastructure.
Ensuring the organizational brand across all media platforms while promoting our messaging on a wide range of issues to diverse audiences is my top priority. Using a number of platforms (publications, social media, and traditional media) allows me to craft and tailor messaging as needed to many audiences.
PRSA: Why did you decide to apply for the APR scholarship?
Kristin: As a member of PRSA since 2004, I had heard quite a bit about accreditation, and the time was finally right to pursue it. The APR scholarship is such an amazing opportunity!  I am honored that I was selected by PRSA Capital Region for this scholarship.
 Pursuing accreditation is the next step in growing my career. With almost 20 years of experience, accreditation will formalize what I know and allow me to have the best understanding of the practice available.
PRSA: Why are you interested in achieving accreditation?
Kristin: As communicators, we know there is no greater investment a company or organization can make than in its own professional image; the same can be said for those who practice in the field public relations. Certifications like the APR enhance the image of the individual practitioner, and the industry, highlighting credibility, knowledge and best practices.
Accreditation encompasses so many areas that arise daily — communication skills, knowledge, engagement, management, leadership, legal and ethical issues, strategic planning — to have a comprehensive understanding is invaluable. I think the importance of having a comprehensive understanding will only continue to grow in importance.
PRSA: What's the most important piece of advice you'd give to new PR professionals?
Kristin: It is an exciting time to work in the field of communications, so be prepared to keep growing and evolving!  The industry has changed a lot since I started and will continue to evolve as more companies realize the benefits of having strong communications professionals on staff.
Don't be afraid to try new things and take on new opportunities. Tactics will change over time and employers are looking for experience and diversity. Finding a mentor is invaluable, although there is a lot to learn on your own, watching how other professionals negotiate challenges and learning from them can be one of the best opportunities.