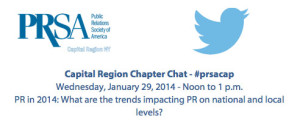 Join us on Wednesday, January 29 for our first Twitter Chapter Chat! We will discuss PR in 2014 and what trends are impacting PR on the local and national levels. To prepare for the discussion, we encourage you to read the PR in 2014 series from PRSA national: click here to read all the blog posts. 
To join in the conversation, click here to follow the Chapter's Twitter feed.

Date: Wednesday, January 29, 2014
Time: 12:00 – 1:00 p.m.
Online Location: Follow hashtag: #prsacap
Format: A moderator will post questions from the handle @PRSA_CapRegion. To follow the discussion, type #prsacap in your Twitter search box. If you wish to answer a question or make a comment, please use the hashtag #prsacap in your tweet. 
There is no cost to participate. Click here to register.