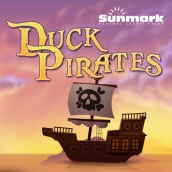 By Rich Meddaugh
Secretary, PRSA-Capital Region Chapter
PR Specialist, Sunmark Federal Credit Union
Sometimes PR can be all fun and games.
This year, Sunmark Federal Credit Union is donating its fundraising efforts to the Regional Food Bank of Northeastern New York. As part of our efforts, we are obtaining donations, both fiscal and food, while brainstorming ideas to support those objectives.
 
For 2011, we have created a unique fundraising tool that will enable us to go viral (hopefully) and create a litmus test for us to use in future fundraising campaigns and networking opportunities. It's the launch of our very own gaming application: Duck Pirates. That's right, I said it. Credit union and gaming in the same sentence. You can now sleep easy knowing something just dropped off your bucket list.
 
In initiatives like this one, PR has a specific role, in this case building upon and enhancing different components of our marketing initiatives.
 
We took this project in a layered approach integrating prelaunch interviews with national and local media while working marketing backchannels to launch the product via Apple and Android stores. Working together, the foundations of a strategically placed PR rollout linked with creative marketing, formed a strong bond in launching a great product.
 
While we have launched the product just recently, we will eventually measure our success based on the increase in the amount of donations as compared to a previously determined benchmark, as well as analytical data contained within the app itself.
 
Initial results are strong. The app has already garnered over 30,000 downloads and created strong branding opportunities for the food bank and the credit union. We dropped Duck Pirates to introduce not only the food bank to residents, but also to strengthen our branding and inform people that credit unions are community-based and center on the mantra of People Helping People. With the new game being launched, we feel we're on the right track and hope to benefit the food bank greatly with this new fundraising option.
 
At this point, you are probably wondering what "Duck Pirates" actually is, so I'll take a moment to explain. Patterned after Angry Birds, the game pits the Sunmark duck against the angry pirate monkeys. The main objective is for players to hurl projectiles at the monkeys knocking them off their perch and then capturing the treasure while obtaining the highest score.
 
The application is free to download and encourages people to make a small donation and share the game with friends and family through Facebook, with all proceeds sent directly to the Regional Food Bank of Northeastern New York. The application can be used across a host of technology platforms including BlackBerry devices, plus Android and iPhone/iPad electronic devices.
 
We'll continue to measure the success of our campaign throughout the next year, holding true to the Barcelona Principles. Check back for the inside scoop on this case study.
 
Until then, while you're at work, home, the gym or elsewhere, check out the free offering of Duck Pirates at the Android and Apple app stores. This is more than just a golf outing for us. It's a chance to significantly affect our area and drive recognition to one of our region's most civic minded organizations. Help us out and raise some much needed funds for the Regional Food Bank of Northeastern New York.