Carolyn Jones from The Business Review and Edward Parham from Rueckert Advertising to receive special honors at the 6th annual celebration of best in local public relations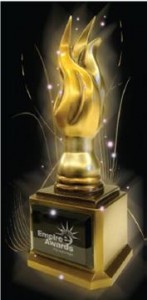 The Public Relations Society of America (PRSA) Capital Region (NY) Chapter, a nonprofit organization dedicated to the advancement and professional development of public relations practitioners, today announced that Carolyn Jones, publisher of The Business Review, has been named "2013 Outstanding Communicator." Edward Parham, director of public relations at Rueckert Advertising & Public Relations, is this year's "Outstanding Practitioner." Both will receive their awards as part of the 2013 PRSA Capital Region Empire Awards event on Tuesday, November 12 at the Hilton in downtown Albany.
"Carolyn has become the face of The Business Review, shining a light on our local business community and helping position the Capital Region as a home for future economic investment," said Mike Lesczinski, President of the PRSA-Capital Region Chapter. "Edward has earned a reputation as not only an award-winning, innovative and professional practitioner, but an ethical one, known for his responsibility, integrity, honesty and fairness. We're proud to honor both of them."
As publisher of The Business Review, a position she has held for the past 15 years, Carolyn Jones has led the weekly publication into the digital age, becoming the first publication in the region with an email news product, and growing the business journal's print circulation during trying times for the newspaper industry. Under her strong leadership, The Business Review has increased its overall regional footprint, introducing highly successful events such as the 40 Under Forty celebration and luncheon and Power Breakfast panel discussions. She also serves on the board of trustees at Ellis Medicine and volunteers her time as a board member for several local business and community groups.
Throughout his more than two decade career, Edward Parham has developed creative, results-driven strategies for clients in the energy, healthcare, business-to-business, education, finance, sports, legal and non-profit sectors. He has organized numerous award-winning campaigns and fueled the growth of some of the nation's most prestigious events in the Capital Region including the Freihofer's Run for Women, The Troy Turkey Trot and the American Diabetes Association's Saratoga Tour de Cure.
The Empire Awards competition began in 2008 to celebrate and commemorate the triumphs of the programs, projects and people that strengthen, promote and sharpen the public relations profession in the Capital Region and beyond. The competition is open to both PRSA members and non-members. Judging is conducted by the Tri-Cities TN/VA Chapter in Tennessee.
Local for-profit and non-profit organizations can submit entries across a variety of categories, including Public Affairs Campaign, Newsletters, Media Relations, and Online Media, among others.
This year's finalists include:
American Heart Association, "Pass the Pulse Ox Bill"
Credit Union Association, "The Point"
Credit Union Association, "Credit Union Associations of New York Corporate Brochure"
Corning Place Communications, "Identifying Extraordinary Leaders in the Global Disability Community"
Corning Place Communications, "Unshackle Upstate Slams the Brakes on Thruway Authority's 45-Percent Toll Increase Proposal"
Excelsior College, "Excelsior Life – The Excelsior College Online Newsroom & Magazine"
New York State Association of Counties,"NYSAC News Magazine"
Overit Media, "Overit Succeeds in Boosting Catseye Pest Control's Revenue and Encouraging Company Growth as it Enters New Regions Nationwide"
Overit Media, "Overit Garners Attention for New York Council on Problem Gambling's KnowTheOdds Initative
Overit Media, "Overit Partners with Silicon Valley Startup, imo messenger, as Agency of Record to Increase Users and Gain National Attention"
Pierce Communications, "Found Sound: miScie's 1878 Edison tinfoil makes headlines (again)"
Rueckert Advertising & Public Relations/blue.0, "65th Annual Troy Turkey Trot"
The Sage Colleges, "The Sage Colleges Crossroads alumni newsletter
To make a reservation for the event, visit prsacapitalregion.org/empire-awards.
-30-