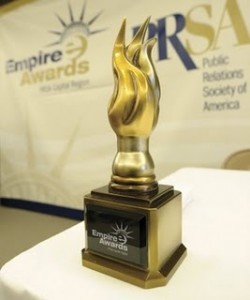 2013 Empire Awards: #PRSAcap to Honor Best in NY Capital Region Communications on Nov 12 http://t.co/5Yc2quh5fq #PRSA

— PRSA Capital Region (@PRSA_CapRegion) September 26, 2013

Are you ready to celebrate the best of the best in Capital Region public relations for 2013?
The Public Relations Society of America (PRSA) Capital Region Chapter created the Empire Awards competition in 2008 to celebrate and commemorate the triumphs of the programs, projects and people that strengthen, promote and sharpen the public relations profession. The competition is open to both PRSA members and non-members.
This year's Empire Awards will be held on November 12, 2013 and held at the Hilton Albany (formerly the Crowne Plaza).

Cost: $35 for PRSA members; $50 for nonmembers. The registration price includes dinner. (Check back for full menu closer to the event.)
Time: 5:30 pm – 6:30 pm Cocktails & Hors d'oeuvres; 6:30 pm – 8 pm Program.
Honorees:
Outstanding Communicator Award
2013 Honoree: Carolyn Jones, The Business Review
This award is given to a Capital Region professional/community leader/public figure who has demonstrated excellence in the field of communications. Both PRSA members and non-members are eligible.
Past Winners:

2012    Penny Vavura, Pierce Communications
2011     Tom Nardacci, Principal and Founder of Gramercy Communications
2010     Ben Marvin, The College of Saint Rose
2009     Jonathan Pierce, APR, Pierce Communications
2008     Jo Ann LeSage Nelson, APR, Pierce Communications
Outstanding Practitioner Award
2013 Honoree: Edward Parham, Rueckert Advertising & Public Relations, Inc.
This award is given to a Capital Region public relations professional, who has achieved exceptional success, displayed the highest ethics, and is dedicated to serving the community and our profession. The awardee must be a member of the PRSA Capital Region Chapter.
Past Winners:
2012  Matt Baumgartner, Owner, Bomber's Burrito Bar Inc.
2011  Dr. Alain E. Kaloyeros, Professor of Nanoscience and Senior Vice President and Chief Executive Officer, College of Nanoscale Science and Engineering
2010     Ed Lewi, Ed Lewi Associates
2009     Linda Hillman, Rensselaer County Regional Chamber of Commerce
2008     Pamela Sawchuk Brown, Eric Mower and Associates
2013 EMPIRE AWARDS FINALISTS – Who Will Take Home a Trophy?
American Heart Association, blue.0, Credit Union Association, Corning Place Communications, Excelsior College, New York State Association of Counties, Overit Media, Pierce Communications, Rueckert Advertising & Public Relations and The Sage Colleges