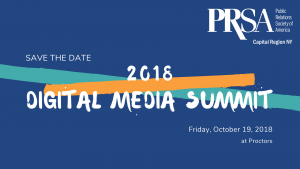 How will you keep up with the latest trends to remain competitive in the ever changing digital media landscape? Join as the Digital Media Summit to hear from local experts.
Friday, October 19, 2018
Proctors – Fenimore Gallery
432 State St., Schenectady, NY
Register by Friday, October 12 for a special Early Bird rate!
$40 PRSA/NYCRAMA/Ad Club members – Save $10 off the regular $50 rate!
$60 Nonmembers – Save $5 off the regular $65 rate!
$25 Students
Schedule of Events
11:30 a.m. – 12:00 p.m.
Registration
12:00 p.m. – 12:30 p.m.
Lunch
12:30 p.m. – 1:30 p.m.
Ethics Online Panel
1:30 p.m. – 1:45 p.m.
Coffee Break
1:45 P.M. – 2:45 p.m.
Creating an Authentic Voice through Digital Media
2:45 p.m. – 3:00 p.m.
Coffee Break
3:00 P.M. – 4:00 p.m.
Digital Media Today Panel
Speakers include
Michael Eck, musician, artist, writer; senior communications and public relations leader for Proctors and Capital Repertory Theatre
Sarah Funk, founder and editor-in-chief of SarahFunky.com travel website and blog
Taras Kufel, manager of digital engagement for the State University of New York
David Lombardo, Times Union political reporter and Capitol Confidential blogger and podcaster
Regina Luttrell, Ph.D., assistant professor of Public Relations, Newhouse School of Communications, Syracuse University
Joshua Poupore, APR, vice president, Corning Place Consulting; past president; ethics officer, PRSA Capital Region
Jonathan Slater, Ph.D., associate professor of public relations, SUNY – Plattsburgh; director of SUNY – Plattsburgh's Institute for Ethics in Public Life