One can never hear too much good advice from high caliber women on our chosen profession of public relations. The panel discussion hosted by the PRSA Capital Region NY chapter on July 27 was replete with well-organized and thoughtful advice from four successful and charismatic women:
Susan Storey Bardack, Chief Executive Officer, Buzz Media Solution
Joann LeSage Nelson, APR, Vice President of Client Services, Pierce Communications
Mona Golub, Vice President of Public Relations & Consumer Services, Price Chopper/Market 32
Chyresse Wells, APR, Deputy Press Secretary, New York State Executive Chamber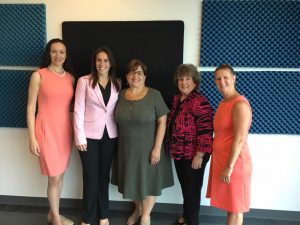 Moderated by PRSA Chapter President Heather Schechter, director of marketing at Sunrise Management and Consulting, the panel started by reviewing the basic definition of public relations – but with their own expert insight added:
"Public relations is a strategic communication process that builds mutually beneficial relationships between organizations and their publics."– PRSA, updated 2012
Nelson added that PR helps organizations and their publics mutually *adapt to* one another, and that the key role of a PR person is storyteller. Golub commented on the need to always be keenly aware of who one's audience is, and align the messages we share with the needs of our publics.
Each panelist then shared career advice born of their experience. Nelson suggested that women in PR should never say we "don't do math." Whether we like it or not, "math is the language of business," she stressed, so women should not eschew math if we want to be taken seriously and want a seat at the table where business decisions are made. She advised reminding clients of the definition and purpose of PR, and showing its usefulness in business by bringing clear value to the strategic planning process. "We bring information back to the organization, we don't just push messages out," Nelson says. "For example, research may show that your messages are not being perceived how you think they are," and plans need to be changed for better results.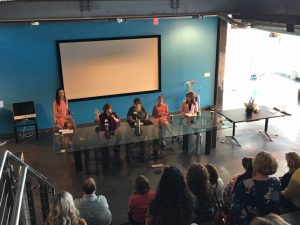 Wells advocates for the importance of thinking ahead, and thinking differently, such as preparing for imaginable scenarios and responses. "Research is the most important thing," she says. Being well prepared for questions or developments showcases our capabilities, and showing results – with numbers whenever possible – will help us get the recognition we deserve.
Golub has experienced being the only woman at the table, sometimes overlooked or underestimated. She suggests that we listen first, take in all the information we can, then formulate a thoughtful response, and THEN speak. When what we have to say is a valuable contribution to the discussion, the others around the table will take notice.
Bardack too has been marginalized in business meetings, even though she is a CEO. She recommends finding tactful ways to remind people that we are a leader in our industry, and forge ahead with our contribution. She also reminded us that we don't have to know everything ourselves – we just need to know people who know things! That is why Bardack approaches every working relationship from a teamwork perspective and uses the language of "we" whenever possible.
There is no denying that the explosion of social media has changed the nature of public relations. "Social media has brought us into the 'You need to answer me right now!' era," says Golub, who admits she spends more than half her time reacting to (mostly negative) comments – "often not based in reality" – and "defending our honor." While frustrating, it is the nature of the free flow of communication today. "Every person with a keyboard has a public forum," Nelson affirms. All we can do, Golub offers, is be as responsive as possible, be authentic, and be ever mindful of our audiences.
Wells adds to be cautious of false accounts – especially in Twitter. "Be careful what you take to be fact and share or re-Tweet," she says, because if untrue, in addition to spreading misinformation, it can reflect poorly on our organizations.
All panelists acknowledged that PR is a 24/7 industry and can be draining. Wells stressed the importance of asking for the help that we need – resources or more hands on deck – and ask for the benefits (such as time off!) that we need to stay healthy and happy.
And if we are not happy, persistently? "We spend far too much of our lives at the workplace," Nelson says. "If you are unhappy, make a move."
Recap by Shannon Ballard Gorman, The Write Idea
Photo Credit: Kimmy Venter
For more from each of the panelists: