PUBLIC RELATIONS SOCIETY OF AMERICA (PRSA) CAPITAL REGION CHAPTER HONORED LOCAL PROFESSIONALS AND ORGANIZATIONS FOR EXCELLENCE IN COMMUNICATION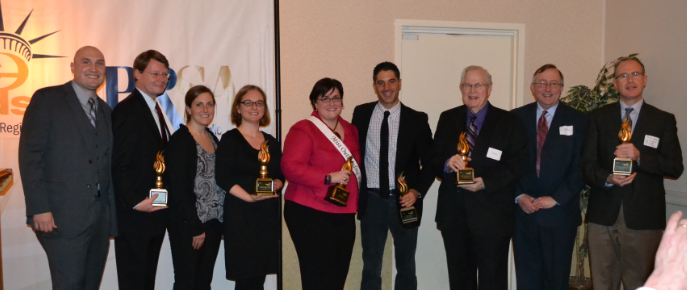 ALBANY, NY (February 13, 2013) – On January 29, the Public Relations Society of America (PRSA) Capital Region Chapter hosted its fifth annual Empire Awards recognizing the best and brightest public relations practitioners, projects, and campaigns of 2012.
In 2008, the chapter established the Empire Awards to celebrate and recognize excellence in the field of public relations. The competition is open to both PRSA members and nonmembers.
Matt Baumgartner, owner of Bomber's Burrito Bar (Albany, Schenectady), Wolff's Biergarten (Albany), The Olde English Pub & Pantry (Albany), Sciortino's Pizzeria (Albany) and Howes & Baum clothing line, was recognized with the Outstanding Communicator Award, given to a Capital Region professional who has demonstrated excellence in the field of communications.
The chapter honored Penelope Vavura, senior counselor at Pierce Communications and district chair of PRSA Northeast District, with the Outstanding Practitioner Award. The recognition is bestowed upon a Capital Region public relations professional who has achieved exceptional success, displayed the highest ethics and is dedicated to serving the community and profession.
In addition, individual Empire Awards were presented to:
AARP's Restoration of Funding for the Elderly Pharmaceutical Insurance Program
In late 2011 and early 2012, AARP mounted a successful Public Affairs Campaign to restore funding to the Elderly Pharmaceutical Insurance Coverage (EPIC) program. This campaign involved grassroots advocacy, significant media relations resulting in print, radio and TV, as well as public outreach to raise awareness on the issue and restore funding in the state budget. More than $30 million in funding was restored to the EPIC program in the 2012-2013 state budget.
Corning Place Communications on behalf of The PBA of New York State's Declaring Independence Requires a Strong Voice
In May 2011, police officers representing approximately 1,100 members of the state Agency Law Enforcement Services unit sought the assistance of Corning Place Communications to create a new union. These officers work on state college campuses, in parks, and as environmental conservation officers and forest rangers. Working without a contract, job security or recent raises, they felt misrepresented by their existing union. Corning Place developed an integrated communications strategy that resulted in certification for the PBA of New York State, a new contract and job security.
The Community Hospice's Voice of Hospice Newsletter
In 2011, the Community Hospice revamped its newsletter along with donation envelope mailed to 40,000 homes each quarter. The communications department was challenged to create a newsletter that was a quick read, connected with and engaged readers, and solicited the communities support in helping the Community Hospice carry out its mission of helping families. With a new redesign, donations received through the newsletter envelope have increased more than six percent, reversing a downward trend. Additionally, overall the Community Hospice has recorded an increase of more than 4 percent in referrals to their hospice program.
United Way of the Greater Capital Region's Uniquely United – United Way Nonprofit Resources E-Newsletter
In September 2010, United Way of the Greater Capital Region distributed the first issue of Uniquely United, an e-newsletter designed to share resources, job opportunities, and important news among the Capital Region nonprofit organizations. From the original distribution list of 29 individuals, Uniquely United's readership has grown to nearly 400 subscribers, and is viewed by readers as an invaluable resource for local charities.
A peer PRSA chapter, Western Michigan, conducted judging for the awards under a reciprocal agreement with the Capital Region chapter. Submissions were accepted in eleven separate categories, including media relations, integrated media, online media, and public affairs, among others. To receive an Empire Award, a nomination must score a minimum number of points to be considered a finalist, and must reach an even higher minimum to be presented with an award.
The Empire Awards event included the "State of the Chapter" address by Chapter President Mike Lesczinski, outlining the board's vision for 2013.
For more information on the Empire Awards, the chapter or membership, visit the PRSA website and/or email PRSAcapitalregion@gmail.com.
-30-
About the Public Relations Society of America Capital Region Chapter
The Public Relations Society of America (PRSA) Capital Region NY is an association of public relations and communications professionals throughout Tech Valley in Upstate New York. PRSA Capital Region embraces the mission of the national organization of 21,000 members by offering networking and professional development opportunities while advocating standards of excellence and adherence to a code of ethics